Dillons Pro Roofing in Owasso, OK
We are proud to offer you some of the highest quality residential & commercial roofing that the state has to offer! Our professional and friendly roofing contractors specialize in any and roof services! Whether you are in the market for an entire new roof or just need a spot patched up, we have the experience and knowledge it takes to be one of the fastest growing companies around!
Dillons Pro Roofing is proud to offer our customers free and honest estimates for any services you are looking for! Just give us a call anytime and we will get one of our guys out to go over your options as soon as we can!
These are some of our more common calls we get every day so you can rest assured that any work we do comes with a guarantee of nothing but quality and perfection. We of course offer standard roof cleaning & flashing among some of the work we do and also specialize in, but are not limited to, the following services:
Residential Roofing
Roof Repair, Replacement, & Installation
Service Any and All Roof Types & Styles!
Our company started off small but it wasn't until over 15 years of hard work and dedication did we become what Professional Roofers Co. is today.
It doesn't just take experience when it comes to the level of our work. Dillon's has given us the knowledge of the industry and years of hard work to guarantee that every job we do, no matter how big or how small, lives up to the company name.
Residential Roofing
Needless to say, high quality roofing materials that go into any job is imperative and we only use brands that are built to withstand any weather that nature can throw at it. The asphalt roof shingles that we use are only those that we deemed worthy for us to represent our name.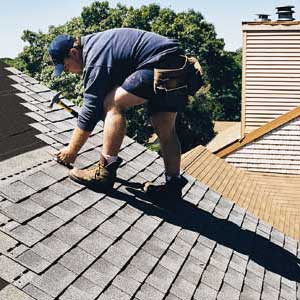 When choosing through roof styles, it's important to keep in mind where we live and how much of a factor that weather will be. We proudly offer GAF & TAMKO Shingles as our premium choices and offer the most protection for your home. We do carry other brands that we stand just as confidently by. You can't go wrong with any of the brands we chose to represent us.
Metal Roofing
If you are among many others out there and think it might be time to get some heavy duty protection for your home, then why not have one of our licensed & insured roofers come out and give you a free estimate on a metal roofing installation today. It won't cost you a dime!
We offer a variety of metal roof covers and guarantee we have a style to compliment any style of home perfectly.
The great thing about going with metal is that it reduces the need for maintenance to close to none, if any at all. Unless we are dealing with a full blown hurricane or tornado, there is no normal weather conditions that can even put a dent in one of our metal roofs.
Give us a call for a free estimate on any and all metal roofing project and see if it is time you make the transition!
Commercial Roofing
We not only service homes but have become professionals at commercial roofing services as well!
Whether you are in the market for a whole commercial roof installation or just need a touch up and restoration, we work harder and faster than any other guys in the business.
Our roofing contractors know how to work quietly and efficiently so you won't even know we are there!
We will not leave until your roof looks brand new and you are 100% satisfied with both our work and our service.
This is our promise and guarantee. We are proud to serve surrounding areas as well including Tulsa, Broken Arrow, Bixby, Sperry, and Sand Springs.